Production Process Development
In the course of designing and developing products Phoenix also develops the manufacturing processes and tooling for in-house use on our own products and also as a service to customers.
Production Process Development
The standard process is to record the build process for prototypes that are subsequently tested.  Development testing often leads to failure, re-design, re-build and re-test and the build details of these re-builds are also captured.  The build information corresponding to the final tested design is then committed to a formal process instruction that contains all quality and HSE information. Before final release the processes are subjected to a formal HSE risk assessment and modified to reduce the risk of operator injury.
During the life of a products the processes change as a result of quality or HSE improvements and the processes are updated and controlled through a process of formal engineering change control.
The diagram to the right shows a sample page from a typical Phoenix Work Instruction.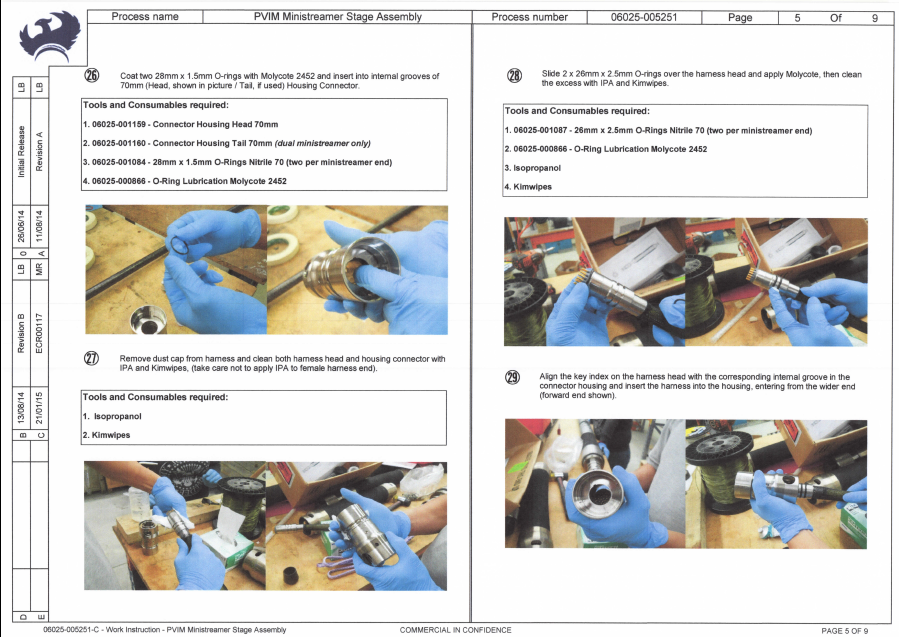 Production Tooling Design and Development
Production tooling is developed following the same design and development process as is used for product development.  Verification of tooling design is carried out during the building of prototypes that are used in the verification process for the product.  Tooling designs are captured in formal drawings and specifications that are kept under strict engineering change control.  The diagrams below and to the right show a shipboard seismic streamer solid section repair process and tooling we recently developed for a customer and an example of an automatic ocean bottom seismic VIM proof load test rig we developed for use in our own production line.