Phoenix designs and manufactures electrical swivel joints for use in the streamer and at the winch.  Phoenix swivel joints use high quality proprietary slip rings utilising gold plated slip rings with gold alloy contact brushes.  Slip rings are available in a very large number of configurations in terms of number of rings ranging from 2 to 72 and and current ratings from 2 to 10 amps per ring.  This provides for power handling and low noise data transmission in marine streamer applications.  Phoenix design swivel joints with high quality bearings and seals and will maintain low rotational stiffness and excellent sealing performance over time and under bending loads.  Swivel joints designed for in-water applications utilise Titanium alloys in all external  and interface surfaces whereas those designed fro use on the winch are produced in Stainless steel for external surfaces and Titanium for those surfaces interfacing with deck cable terminations.  The design is modular so as to accommodate a very wide range of physical and electrical configurations without incurring significant design and development costs.  If you have a problem with existing equipment or just a new application, contact us and we will be able to offer you a a cost effective and high quality solution tailored to your needs.
Download The Phoenix Swivel Joint Product Brochure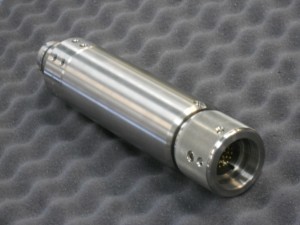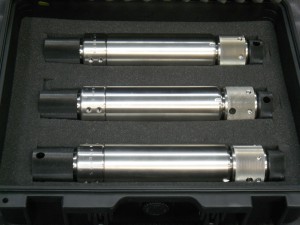 In Water Swivel Joints
Phoenix in-water swivel joints are designed with high quality bearing to maintain a low turning stiffness even under load and are fitted with high quality seals that will provide for water sealing to 300m with a minimum seal life of 100,000 rotations.  Sealing is designed to be maintained when the swivel joint is subjected to combined bending and tensile loads.
The photos to the left are of a Phoenix tail swivel joint.  The version shown has been designed to be fitted in line upstream of the STIC cable or at the tail buoy / STIC cable interface where bending and snatch loads can be very high.  In order to facilitate use in multiple locations it has been designed to allow for brackets to be attached for connecting tail buoy chains or with grooves to interface with the Phoenix tail buoy clamp in a flexible tail end solution.
Download the spec sheet for this product
Winch Mounted Swivel Joints
Phoenix also designs swivel joints for use at the winch.  Key standard design features are very high load twin bearing , twin seal design that provides for a very high level of durability and sealing performance over very long periods of use and require no maintenance.  The mounting flange can be specified so as to make for interchangeability with other legacy equipment.  Entry and exit points can be specified as high quality cable glands or with full streamer or deck cable interfaces either rigidly or flexibly mounted.
The version shown on the right is a 72 channel model specified by a customer.  The unit is designed to be physically interchangeable with an existing 32 channel swivel joint and provides for previously unavailable specialised streamer handling arrangements whilst offering a solution to severe sealing and bearing problems reported on the existing equipment.
Download the spec sheet for this product.